The Power of Christ in YOUR Life

As a lifetime member in the Church and a minister for 51 of those years, Warren R. Angel maintains that the power of Christ is inherent in every believer and available to anyone anywhere in the world who will commit their lives to Christ.
The power of Christ is reality and transformation, life-changing power to conquer any sinful habit or addiction. It is power to see miracles and healing in the lives of those prayed for through the Holy Spirit. Angel tells story after story of amazing miracles and healing throughout the history of the Church, beginning with the life of Christ and continuing with the apostles, people like Constantine, Augustine, and Luther, and down to our time everywhere in the world where Christ is preached and believed, including his own ministry.
The power of Christ is still the greatest power in the world today. Anyone can have his power in their life!
$9.99 now available for $9.00
$2.00 S/H for entire order
Pay with PayPal
(Can also be purchased from Amazon)
Kindle Ebook available from Amazon $4.99
---
---
God's Love in the End Times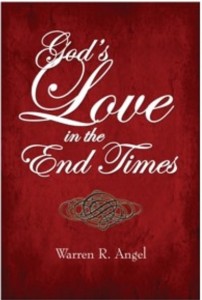 Discusses false ideas about God's love, especially among Christians, and clarifies biblical concepts, notably that God will never stop loving anyone, that God's sovereignty is subject to his love, and that no believer will be left behind at Christ's return. Includes a strong refutation of Calvinism, which by its nature denies God's love for every person. Enables every believer to say, no matter what their situation in life, "I know God loves me!"
$13.95 now available for $10.50
$2.00 S/H for entire order
Pay with PayPal
(Also can be purchased from Amazon)