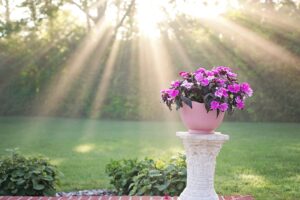 "Rejoice in hope," Paul wrote to the Romans (12:12).
Yet we watch and listen to the horrific news coming out of Ukraine and wonder how even the many Christians in Ukraine can have any hope.
What is there to hope in or hope for? The future for Ukrainians seems bleak if many of them will have any future at all. Yet for us as Christians, whether we live in peace in America, or in a refugee camp in Poland, or in a communist indoctrination camp in China or North Korea, we do have hope.
God gives us hope in Jesus Christ, his Son.
What exactly do I mean by the word "hope," a word or concept not much talked about in Christian circles?
I don't mean—nor did the apostle Paul mean—the common human concept of hope, as in "I hope I can buy a new car someday, I hope, I hope." We all have this kind of hope, a hope that is often based on working toward a goal in life. Even though we work hard to make something happen, it is still a hope until it is realized. Or maybe we hope another person will do or say something we want to happen.
But this is not the kind of hope Paul was writing about when he said, "Rejoice in hope." This kind of hope comes from God who gives us hope. It is a hope that is centered in God. And it is a hope that is grounded not only through faith in God, but in the resurrection of Jesus Christ.
The concept of hope in the Bible is traced at least as far back as the psalmist David, who wrote, "And now, O Lord, for what do I wait? My hope is in you" (Ps. 39:7). In another psalm David, who experienced God's love and goodness again and again,  declared, "For God alone, O my soul, wait in silence, for my hope is from him" (62:5).
David knew who to hope in, because the object of his hope and the source of his hope were the same—God.
This is why, even when his enemies were hounding him and threatening to kill him, he could still say, "But I will hope continually and praise you [God] yet more and more" (71:14). After all, in the same psalm he said, "For you, O Lord, are my hope, my trust, O Lord, from my youth" (71:5).
When Patricia and I first moved to Oceanside in 1998, our next door neighbors were a former Marine and his young Russian bride, Angelika, from Ukraine. Her mother still lived in Ukraine and occasionally visited Oceanside. Both Angelika and her mother were wonderful and friendly Christian people, members of the Russian Orthodox Church. We lost track of Angelika when she and her husband moved away many years ago, but ever since Russia attacked Ukraine and began shelling civilian neighborhoods we think about her and her mother and pray for them.
Is her mother and her family still in Ukraine, and if so, are they okay? Have they lost hope? The good news is that's not likely even if they are in dire circumstances, because God gives us hope in Jesus Christ. Faith in his Son gives us a hope that cannot be extinguished.
How, you might be asking, does faith in God differ from hope in God? The two concepts, after all, even if they are different, are essentially related.
Faith is confidence and trust in Jesus Christ as one's Savior, and therefore also confidence and trust in God. Hope is more of an expectation of a future blessing from God, both in this life and the next.  We sometimes lose any hope that something we want in this life will actually happen. But we do not lose hope in Christ that we will spend eternity with him because God has promised that it would be so through our faith.
One of the most soul-drenching, faith-building, and exciting verses in the New Testament on just that subject is 1 Peter 1:3: "Blessed be the God and Father of our Lord Jesus Christ! According to his great mercy, we have been born again to a living hope through the resurrection of Jesus Christ from the dead . . ."
A living hope!
 Because God raised Jesus from the dead!
The apostle Peter, who, when he walked with Jesus, had many doubts and fears and denied Christ three times, now writes that believers in Christ can have every confidence in the hope of eternal life because he knows Christ has been raised from the dead. And since that is true, so will those who believe in him be raised from the dead.
This is not pie-in-the-sky belief, make believe, or an empty "I hope, I hope" based on a fanciful belief in God and a mythical resurrection.
Rather, it is a living hope based on the reality of Christ's resurrection.
So if you are losing hope in the future as a believer of Christ, perhaps due to the  encroaching evil in our world, or to the relentless pressure from atheists and communists, and the far liberal left and the LGBT community to discard your Christian beliefs and conform to their way of thinking about life, let the Holy Spirit embed the words of Hebrews 10:23 firmly in your mind and spirit: "Let us hold fast the confession of our hope without wavering, for he who promised is faithful."
The writer of Hebrews would also tell us, "Faith is the assurance of things hoped for, the conviction of things not seen" (11:1). The first Christians lived in a world of turmoil and evil. Many were persecuted for their belief in Christ. But people like Peter and Paul and the writer of Hebrews could write about "assurance" and "conviction" in God's promises of help in their world and eternal life in the next because they had experienced love and help from the living God.
Paul tells us in 1 Corinthians 13:13, "Now faith, hope, and love abide, these three; but the greatest of these is love." And in chapter 5 of Romans he talks about these three qualities in the first eight verses. He says, in summary, that because we have been justified by our faith in Christ, we now experience God's peace and grace. And more than that, "we rejoice in hope of the glory of God" (5:2). In other words, because of our faith in Christ we rejoice, knowing that we will one day be in the very presence of God's glory in heaven.
And more than that, even though we might have to endure suffering for Christ, "suffering produces endurance, and endurance produces character, and character produces hope" (5:4).
And hope, Paul continues, "does not put us to shame, because God's love has been poured into our hearts through the Holy Spirit" (5:5).
Even though Paul experienced much suffering through persecution—and even laughter!—for his beliefs in Christ, he never wavered in his hope in God and in Christ. For Paul's hope was not merely a wish or an expectation for what he wanted, but a certainty that God's promises in Christ would come to pass because they were true.
Christian hope, a hope that is rooted in Christ and in the promises of the living God, is a sustaining power in our lives every single day.
Never give up on hope in the living God and your Savior, Jesus Christ—our hope of heaven.
Rather, rejoice in your hope!
The End