God's Help Is on the Way

                                                                                                It had been raining lightly for twenty minutes as my wife and I were on our way to church for a mid-week ministry. The traffic light changed to red as we neared an intersection.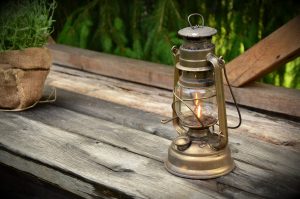 But when I applied the brakes the car did not stop and we started sliding through the intersection.
God's help was already on the way as I put my arm in front of my wife to protect her and shouted, "It's okay! It's okay!" I didn't know why I said that because I had no way of knowing it was okay. But God did!
The car finally stopped in the middle of the intersection—against the red light!
But no cars came at us. The intersection was empty.
God's help was on the way before I even knew there was a problem.
Vicky, an organist in a church I formerly pastored, told an even more miraculous story of God saving the lives of she and her three children at another intersection on a dry, sunny day.
They were stopped at a red light, a mother and three happy children under ten years old out for a shopping trip. The light changed and she pressed the accelerator, but nothing happened. The car seemed to have died.
Before she could even think about what to do a large truck barreled through the intersection right in front of them! "Oh, thank you, Lord!" Vicky cried. Had her car started off she and her children likely all would have been killed.
God's help was on the way even before Vicky knew she needed it. God has no trouble stalling out a vehicle when necessary. As soon as Vicky calmed herself she pressed the accelerator and the car took off. There was nothing wrong with it. God had momentarily stalled the motor to save four precious lives.
The psalmist wrote long ago, "I lift up my eyes to the hills. From where does my help come? My help comes from the Lord, who made heaven and earth" (121:1-2). The psalmist, possibly David, lived his life in the belief that God would always help him.
God told Isaiah, "I, the Lord your God, hold your right hand; it is I who say to you, 'Fear not, I am the one who helps you'" (Isaiah 41:13).
In Isaiah's life God's help was always on the way!
Back in the period of the Judges, not long after the Hebrews entered the Promised Land, many seemed to forget all that God had done for them to rescue them from Egyptian slavery and sustain them in the long years in the wilderness of Sinai.
 But a courageous and faithful judge and prophetess of God by the name of Deborah never forgot God's loving greatness.
Because Israel did what was evil (idolatry and oppression) in the sight of God, he gave them into the hand of Jabin, a local Canaanite king in Hazor. Unfortunately for the Jews, Jabin was more evil than they had been, and "he oppressed the people of Israel cruelly for twenty years" (Judges 4:1-5).
But God's help was on the way. Israel had been punished for their sinfulness, and now God would rescue them. He told Deborah to raise an army of 10,000 men through Barak and lead them to battle against Jabin's Canaanite army. It took some time, but Deborah and the Israelite army defeated Jabin (4:6-24). And the writer of Judges adds this tagline in 5:33, "And the land had rest for forty years."
Though Israel didn't know it (although Deborah did!) God's help was already on the way as Israel suffered Jabin's cruelty.
What about us some 3200 years after Deborah's faithful trusting in God's help?
After all, sometimes we have trouble believing God will help us. Sometimes we pray and pray and God's help seems never to arrive.
Two of my favorite stories in the Gospels are of a woman and a man who asked for Jesus' help. The Canaanite woman in Matthew 15:22-28 was desperate for her daughter to be healed from oppression by a demon. At first Jesus didn't seem to want to help her, but when she insisted Jesus said, "O woman, great is your faith! Be it done for you as you desire." Her daughter was instantly healed.
God's help is on the way even when we think it will never come. We just need to keep on praying and believing.
Like the woman, the man said his son had an evil spirit that made him mute and tried to kill him by throwing him into fire or water. He asked Jesus to please help him "if you can do anything." Jesus seemed incensed. He repeated the man's words back at him: "'If you can'! All things are possible for one who believes."
"I believe!" the man cried. "Help my unbelief!"
Even though the man admitted he had little faith and plenty of doubt, he did come to Jesus for help not only for the healing of his son, but also that he might have more faith.
The boy was healed by Jesus when he heard the man's honesty in his cry for help (for the whole story, read Mark 9:14-29).
Whatever you need from God today, believe that you will have it, for God's help is already on the way. Hebrews 4:16 tells us, "Let us then with confidence draw near to the throne of grace, that we may receive mercy and find grace to help in time of need."
Don't give up on God! His help is already on the way.
The End