The Power of Christ Gives Us Confidence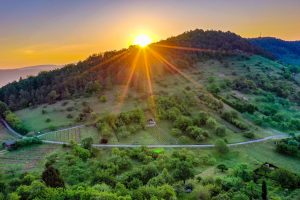 Our church was blessed with a small choir of people who loved to sing for the Lord. But our choir director resigned because she moved out of the area. So I hired a new attendee named George. I had just met him and didn't know him at all, but he was the son-in-law of long-time, faithful members, so I assumed he was what he said he was—a capable and energetic choir director.
But at his first choir practice George never showed.
In fact, not only did he not show but I was never able to contact him, nor did I ever see him again.
"Well," someone who knew him told me, "he's like that." George had no confidence in himself or in God to do anything. Now they tell me, I thought.
Confidence. Now that's one word, one concept, we don't hear much about in church or in a Bible study. We hear a lot about faith and grace and righteousness and mission, but, to be honest I don't remember ever giving a sermon on confidence or even hearing one.
Yet it is a concept that we need to have in our lives as Christians, especially in these terrible days of 2021 when evil is all around us.
"Confidence" is not quite the same thing as faith. Faith is belief in someone (in God, or in Christ in our Christian experience) without tangible proof. In other words, we can't see or touch God or Christ, but we believe those who did see Christ and so have "faith" that he is indeed our Savior. And our faith leads us to experiencing God and the power of Christ in our everyday lives.
Confidence, though close to the meaning of faith, means belief in one's self or in one's power or abilities. Faith seeks an object, God and Christ, while confidence is subjective, enveloping our beings and emboldening us to be and to do something.
When astronauts step into a spacecraft to rocket them into outer space to hook up with a space station, they have "faith" that the system they're entering can and will take them there. And they have to have "confidence" in themselves that their training and psychological makeup will enable them to perform while in space.
As Christians we have faith in Christ to forgive our sins and bring us into heaven for all eternity. But do we have confidence as faithful servants of Jesus Christ?
I mean, confidence in ourselves and confidence in our great God?
 After all, most of us believers do not come from great families and are not known as great world leaders. So it has always been in Christ's Church. Paul reminded the Corinthians, "Not many of you were wise according to worldly standards, not many were powerful, not many were of noble birth" (1 Cor. 1:26). Yet God has called us, he goes on to say, to bring even the world's wise and strong to faith in Christ (vs. 27-28).
In the Old Testament God chose a woman in a patriarchal society, Deborah, to become a great judge and military leader (Judges 4). And he chose David, a little shepherd boy, to be a great king and military leader of the young nation of Israel (1 Samuel 17). Both had great confidence in themselves and in the God of heaven and earth. As David wrote in Psalm 27:1-3, "The Lord is my light and my salvation; whom shall I fear? . . . . though war rise against me, yet I will be confident."
God wants us to have not only faith in him, but confidence in ourselves, that we belong to him and that we can accomplish what he has called us to be and do. And that he will always be with us and help us as he promised Moses in Deuteronomy 31:6 and 8, and reminded the writer of Hebrews, who wrote, "he has said, 'I will never leave you nor forsake you . . . . The Lord is my helper; I will not fear; what can man do to me?'" (Heb. 13:5-6).
We are Christians on our way to heaven because we have faith in Christ. But God also wants us to come to him in confidence that he loves us, that he will hear our prayers, and that he will help us be and do everything Christ has called us to. The writer of Hebrews also said, "Since we have a great high priest who has passed through the heavens, Jesus, the Son of God . . . . Let us then with confidence draw near to the throne of grace, that we may receive mercy and find grace to help in time of need" (4:14-16).
Before I ever attended college and seminary and became a minister, I was called on as a youth group leader to bring a sermon at a neighboring church. I was terrified. That wasn't me—at least not yet! But after I called upon God for his help I had confidence that he would give me help and speak through me. He did, I preached with power, and the response was incredible.
Paul reminded Timothy to stir up the gift of God within him, "for God gave us a spirit not of fear but of power and love and self-control" (2 Tim. 1:6-7).
When we recognize and stir up the power of Christ within ourselves through the Holy Spirit, we will always have confidence in ourselves and confidence in God to be his movers and shakers in a world of sin and fear.
The End