I believe in the God of miracles.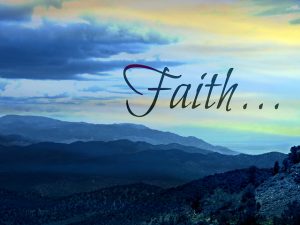 This is the God of heaven and earth who asked Sarah long ago, "Is anything too hard for the Lord?" (Gen 18:14). Sarah had laughed when she heard God tell Abraham that his very old wife would have a baby in the spring.
We would laugh too. Such an event would have to overcome the laws of nature.
But Sarah did have a baby―Isaac―in the spring!
 I believe in the God of miracles.
He is the God of Abraham, Isaac, and Jacob—God of the living. He is the Father of Jesus, and our Father too.
And he is still the God of miracles.
We need to have faith―and lots of it―to believe that God could and would work a needed miracle in our lives considering the times in which we live. The coronavirus has killed more than 473,000 people worldwide, including more than 122,000 in the U.S. as of this writing. Some medical people question the accuracy of these figures, but even if they're not, the number of deaths is still very high. Nearly all people who contract the virus recover, but some Christians worry and wonder if they will get it.
We need the faith of Jesus.
Then a racist cop brutally murdered a gentle Christian black man and started numerous protests which led to rioting, looting, and burning, none of which had anything to do with peaceful protests against police brutality. A minister friend and his wife lived through the terrifying ordeal of rioters (not peaceful protesters) bashing store windows, looting, and burning buildings all night long as sirens wailed, police helicopters circled overhead, and yelling pierced the air.
They wondered if the rioting and burning would come to their door. It did not.
They have the faith of Jesus.
The looting and burning of buildings and police vehicles has quieted down, but it has led to anarchists blocking and taking over part of Seattle—after ordering the police to leave their precinct!
How could this happen in America, we wonder. And if this can happen in Seattle, a very politically and socially liberal city, can it happen where we live many are wondering. Will anarchists take over my city, my neighborhood, my church? What can I do?
We need the faith of Jesus.
 Really, I can hear you saying!
How can we have the faith of Jesus? He's the Son of God. He didn't even need faith. What do you mean by "the faith of Jesus"?
If you think Jesus didn't need faith, you need to remember that although he was the divine Son of God, he was still born a human being. He did need faith―faith in his Father, the God of miracles.
From a human standpoint he didn't want to endure the agony of the cross. And so he asked his Father in the Garden of Gethsemane if there were another way. He told his disciples, "My soul is very sorrowful, even to death." And he prayed, "My Father, if it be possible, let this cup [of crucifixion] pass from me." But faith took over, faith in knowing that his Father would rescue him from the grave, a miracle that would have to overcome the laws of nature. "Nevertheless, not as I will, but as you will" (Matt. 26:36-39).
And the God of miracles did raise him up from a cold tomb.
"But I'm not Jesus," you might be objecting. And it's true that our pure humanity renders us more limited than Jesus in having faith in God.
Yet God wants us to have the faith of Jesus. And Jesus said we could have the kind of faith he had to trust his Father, the God of miracles. The truth is―if we are willing to see it and believe―that miracles from the hand of our great God are occurring all over the world every day. Some are small miracles, even tiny miracles, we might say, and some are great miracles that provoke wonder and cause people, even Muslims and atheists, to believe in Jesus Christ as their Savior.
Here are three diverse miracle stories, some of which I experienced:
#1: During my first full time pastorate at a small church, a strong wind blew part of the roof off our worship center. Before we could get it repaired, one afternoon the sky grew black and fierce, threatening rain and destruction of the building. I got down on my hands and knees on the church steps and prayed to God that it might not rain. After a few big drops it quit. The church building was saved. People in the area, seeing the wind and black clouds, were amazed that it didn't rain. I had prayed with the faith of Jesus. And the God of miracles stepped in.
#2: I've seen many miracles of healing in my ministry over the years, but one that really stands out is that of a very spiritual lady, Wilma, undergoing open heart surgery. She was scared, and so on the way into the operating room I reminded her that Jesus was with his disciples when the wind and waves threatened to swamp their boat and drown them all on the Sea of Galilee. Her daughter was terrified for her, but God gave both Wilma and me peace―and the faith of Jesus―that she would be all right. Our church continued in prayer.
When this wonderful lady was out of surgery and I was able to talk to her, she told of nearly dying the first night. But the God of miracles sent an angel in the form of a nurse to sing gospel songs to her, pray for her, and talk with her through the night. God brought her through, and she lived and ministered to others for another 10 years.
#3: The third story was told to me by a college professor who was a missionary to India many years ago. He was sitting behind the pulpit during a service when a man known for violence came running down the aisle waving a machete and shouting, "Kill the preacher! Kill the preacher!" As the missionary sat there, wondering if he should get up, the local minister jumped to his feet with the faith of Jesus and commanded a demon to come out of his potential killer. The man dropped the machete and fell to his feet. When he woke up he confessed his sins and accepted Jesus as his Savior.
If you are challenging a person threatening to kill you, the faith of Jesus is an absolute necessity. Evil is gaining ground all over our world, but Jesus Christ is greater than the evil one he defeated on the cross. The apostle John wrote, "Everyone who has been born of God overcomes the world. And this is the victory that has overcome the world―our faith. Who is it that overcomes the world except the one who believes that Jesus is the Son of God?" (1 John 5:4-5).
We need to have the faith of Jesus.
This kind of faith is not exclusive to evangelists or missionaries, or to pastors or ministers. Any Christian believer can have the faith of Jesus. Stories from the mission field, particularly in Muslim, Buddhist, and Hindu countries, tell us over and over again of new Christians who pray for their sick family members or neighbors and witness God healing them. Some became Christians because God first healed them of lingering and difficult illnesses.
In the Gospels we read story after story of Jesus and the apostles and even deacons healing people. Some (not all) were healed because of their great faith in God.
In Matthew 8 a Roman centurion (an officer), a man of great authority, came to Jesus and begged him to heal his paralyzed servant at home lying in bed. Jesus was astounded by the man's faith in him and said, "Truly, I tell you, with no one in Israel have I found such faith . . . . Go, let it be done for you as you have believed." The servant was instantly healed (8:5-13).
Mark tells of a woman who had suffered from hemorrhages for 12 years and was healed. The woman merely hoped to touch Jesus' garment! She had great faith to be healed―and she was. Jesus said to her, "Daughter, your faith has made you well" (Mark 5:25-34).
After Jesus ascended into heaven, the Holy Spirit fell on the apostles and disciples to enable them to minister in the power of Christ as they fulfilled their callings to preach the gospel. The book of Acts tells us of two deacons who were powerfully filled with the Spirit and did many healings.
One of them, Philip, went to Samaria and preached Christ. And many responded, partly because of the miracles this great deacon of the Church did. "For unclean spirits, crying out with a loud voice, came out of many who had them, and many who were paralyzed or lame were healed. So there was much joy in that city" (Acts 8:4-8).
Philip was not only filled with the Holy Spirit and the power of Christ, but he had the faith of Jesus. And he was not an ordained minister.
Philip had this faith Jesus said we could all have not only because he was filled with the Holy Spirit, but he likely witnessed the deeds of Jesus and believed his challenging words. Jesus had told the man with a troubled child who struggled to believe that Jesus could or would do anything to heal him, "All things are possible for one who believes." The father cried out, "I believe! Help my unbelief!" And Jesus healed his son (Mark 9:23-25).
This man's faith wasn't perfect, but he got the faith of Jesus.
At the withering of the barren fig tree, Jesus' disciples were dumbfounded that he had such power. Jesus' answer to their amazement applies to us in the 21st century: "Truly, I say to you, if you have faith and do not doubt, you will not only do what has been done to this fig tree, but even if you say to this mountain, 'Be taken up and thrown into the sea,' it will happen. And whatever you ask in prayer, you will receive, if you have faith" (Matt. 21:18-22).
Many Christians (perhaps most) don't believe these words of Jesus because many of their prayers haven't been answered. We do, of course, need to pray in God's will (1 John 5:14). But the point Jesus was making was twofold: Any believer in him can have this kind of faith, and we do need to keep on believing.
Another saying of Jesus many Christians don't believe is his statement that "whoever believes in me will also do the works that I do; and greater works than these will he do because I go to the Father." Again, we need to pray in God's will that God may be glorified (John 14:12-14).
Why don't we believe these words of faith and trust in Jesus Christ, our Savior?
Paul did. And he had been a sinful, hateful man before he met Jesus on the road to Damascus. He would later write, "I have been crucified with Christ. It is no longer I who live, but Christ who lives in me. And the life I now live in the flesh I live by faith (italics mine) in the Son of God, who loved me and gave himself for me" (Gal. 2:20).
Faith to believe in his Savior, Jesus.
Faith to persevere in trials.
Faith to pray for others and see the God of miracles at work in his world.
We prayed for Jimmy when his parents brought him to church with a bandage on one eye. His younger brother had accidentally poked him with a stick while they were playing, and the doctor said Jimmy would have permanent eye damage.
The faith of Jesus and the power of the Holy Spirit took over our service when the elders and I laid hands on Jimmy and prayed for him at prayer time. On Monday morning when a specialist examined Jimmy's eye, he found no damage. God had healed him.
Because you are a believer in Jesus Christ, the power of Christ is in your life. And if the power of Christ is in your life, the faith of Jesus should also be in your life. (You can read more miracle stories and more about what Jesus said we should  be in my recent book The Power of Christ in YOUR Life. Available on this blog site or from Amazon.com/books).
God doesn't want us to fear the coronavirus or anarchists or any other evil. Jesus defeated the devil on the cross, and because he lives in us we, as the apostle John said,  have overcome the world.
Let the faith of Jesus grow in your Christian life. Begin to trust God more today. I don't mean to say that God will answer all your prayers. But you will see the God of miracles greatly at work in your life and ministry.