Rejoicing in the Lord Will Brighten Your Day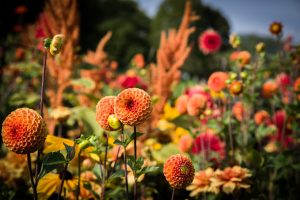 Evangelist Murphy (his name has been changed to protect the "guilty") moved up and down the aisles of the supermarket, struggling to put one foot in front of the other as he searched for a few items he needed in his so far humiliating evangelistic week of services.
Nobody was responding to his preaching and calls to receive Christ. Well, maybe one or two, but nothing like recent past experiences where many came forward.
He was so depressed he could barely walk straight much less think coherently. Maybe I ought to give up this evangelistic ministry, he thought, reaching for a roll of paper towels on the shelf.
"Hello, Sir," a woman's voice said down the aisle. "Are you okay? You look like you've lost your best friend!"
"What?" he said, looking at a finely-dressed woman in her thirties with the brightest smile he had ever seen. "Oh, hello. What makes you so perky?"
The woman's eyes opened wide as her smile broadened. "It's Jesus Christ," she said, "my Lord and Savior. I just go about every day rejoicing in the Lord because he always gives me something to rejoice about, even when life is not going well."
Evangelist Murphy tried to raise his head, but he couldn't bring himself to tell this exuberant lady that he was not only a believer too, but one of Jesus' evangelists.
"That's great," he muttered, shuffling down the aisle.
But when he left the store he knew he had to change his attitude on life and his current stale week of preaching the gospel.
After all, he too had the very same person he could and should be rejoicing about every single day of his life!
He thought of the great prophet Elijah, broken, spent, discouraged, and depressed because the whole of Israel—or so he thought—had forsaken the Lord and gone after worthless idols. Not a righteous person was left except himself. Elijah asked God to take his life. There was no rejoicing in him.
But God wasn't done with him.
"What are you doing here?" God asked him. "Get up and continue your ministry. I have seven thousand people in Israel who worship me and not idols."
And Elijah did get up, rejoicing as he left the wilderness to continue his ministry. He really did have something to rejoice about! (See 1 Kings 19 for the story).
As Murphy left the store, Psalm 118:24 came to mind: "This is the day that the Lord has made; let us rejoice and be glad in it." He made up his mind to rejoice in the Lord every day for the rest of his life no matter what happened—or didn't happen.
Jesus Christ always gave him something to rejoice about!
 But wait! There's more, much more!
The prophet Habakkuk, who prophesied around 605 B.C., was determined to rejoice in his salvation even when life was not so good: "I will rejoice in the Lord; I will take joy in the God of my salvation" (Hab. 3:18).
Peter praised his readers who were undergoing persecution because they were thankful to God for their salvation. "In this you rejoice . . . . Though you do not now see him [Jesus], you believe in him and rejoice with joy that is inexpressible and filled with glory, obtaining the outcome of your faith, the salvation of your souls" (1 Peter 1:6 and 8-9).
The psalmist David praised God for his love and because he could trust God every day of his life. "Steadfast love surrounds the one who trusts in the Lord. Be glad in the Lord, and rejoice, O righteous, and shout for joy, all you upright in heart!" (Ps. 32:10-11).
In Paul's great love chapter, 1 Corinthians 13, he encouraged us to praise God for truth. "Love . . . does not rejoice at wrongdoing, but rejoices with the truth" (v. 6). God is a God of truth who has filled our lives with the truth of His Son and the eternal life he gives us.
When the disciples came back from a mission Jesus had sent them on, they were rejoicing because evil spirits where subject to the power of Jesus Christ. Yet Jesus cautioned them, "Do not rejoice . . . that the spirits are subject to you, but rejoice that your names are written in heaven" (Luke 10:20).
How often have you rejoiced that your name is written in heaven?
Lastly, Paul tells us, "Rejoice in the Lord always; again I will say, rejoice" (Phil. 4:4). The antidote for anxiety about life, and for fear, depression, and the horrible feeling of unworthiness as a servant of the Lord, as Murphy and Elijah felt, is to rejoice in the Lord.
We don't ever need to feel unworthy or that perhaps our sins will keep us out of heaven, as most Christians sometimes do.
For Jude, in a short doxology to end his letter, rejoices by telling us: "Now to him who is able to keep you from stumbling and to present you blameless before the presence of his glory with great joy, to the only God, our Savior, through Jesus Christ our Lord" (v. 24).
Blameless before God in Jesus Christ our Lord!
Now that's something to rejoice about that will brighten every day of your life!
The End